At just 21 years old, Louis Skupien has already achieved more than most people do in a lifetime. He is a multifaceted individual who has made a name for himself as an entrepreneur, a world-renowned podcaster, and a thrill-seeker who has experienced some of the most extreme adventures the world has to offer. With a background in tennis, entrepreneurship, and podcasting, Louis's journey has been nothing short of remarkable. In this article, we'll take a closer look at the life and achievements of Louis Skupien.
One of Louis's most notable accomplishments is his role as the host of the TALK4 Podcast. This podcast has gained significant recognition for featuring some of the most impressive individuals from around the world. With over 560,000 views and 22,600 subscribers, the TALK4 Podcast has become a platform for Louis to share his exhilarating conversations with a diverse array of guests.
These guests include notables like Eddie Hamilton, the editor of the Mission Impossible movies and Top Gun Maverick, the real commander of Top Gun, the commander of the Navy Seals, and the commander of the USS Cole Destroyer. Louis has also welcomed world champion athletes, famous musicians, world record holders, near death survivalists onto his show, among many others. His ability to engage in thought-provoking discussions with such a wide range of individuals has made the TALK4 Podcast a must-listen for those seeking inspiration and insights from the world's most exceptional personalities.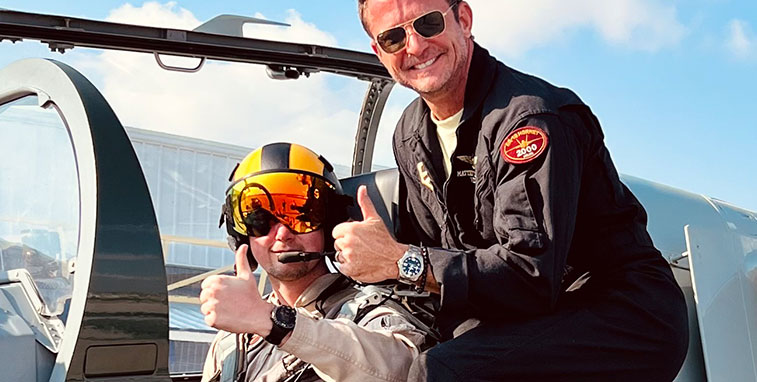 Louis's entrepreneurial spirit has been evident from a young age. He developed his first business from the ground up, displaying a natural talent for innovation and business acumen. Beyond his entrepreneurial endeavors, Louis has also created a best-selling product, proving his ability to identify market needs and fulfill them. His ability to balance the demands of entrepreneurship and podcasting is a testament to his dedication and work ethic.
Louis Skupien's life is not all business and podcasting; he's also a dedicated thrill-seeker who has embarked on some of the most extreme adventures known to mankind. On March 3, 2023, Louis had the opportunity to fly an L39 Albatros Fighter Jet, an experience offered by former Talk4 Podcast guest Matthew "Whiz" Buckley. Together, they performed a variety of aerobatic combat maneuvers, reaching an incredible 6.5G in the 500mph jet. Their adventure included a daring "low-level attack run" over a river leading to Lake Okeechobee, where they gave several fishing boats the flyby of their lives, narrowly avoiding telephone lines. This daring escapade was just one of many on Louis's bucket list.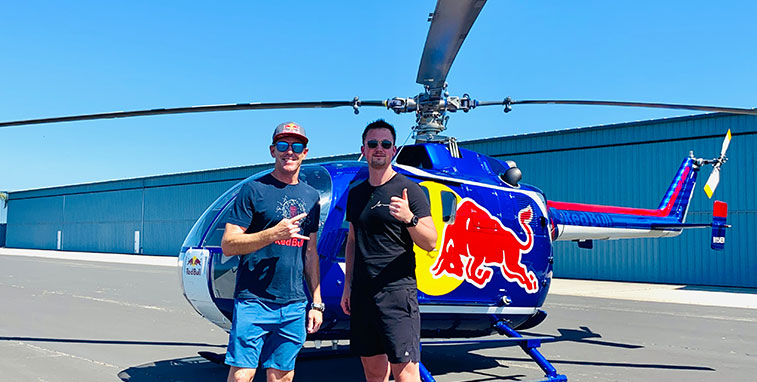 On May 16, 2023, Louis was invited to Los Angeles by Aaron Fitzgerald, the RedBull Aerobatic Helicopter Pilot. The experience took place on Saturday, June 24th, in Oxnard. Louis had the rare opportunity to fly in the RedBull helicopter and participate in the same aerobatics that Aaron performs during his airshows. Few people in the world have had the privilege of such an experience, making it a truly extraordinary event in Louis's life.
As a 21-year-old entrepreneur, podcaster, and thrill-seeker, Louis Skupien's journey is just beginning. His ability to engage with extraordinary individuals on the TALK4 Podcast, coupled with his entrepreneurial successes, has set a solid foundation for a promising future. His enthusiasm for adventure and willingness to push the boundaries of what is possible are qualities that make him stand out in a world filled with aspiring entrepreneurs and podcasters.
Louis's remarkable journey, from winning national and international tennis championships to building a thriving business and podcast, has already demonstrated his exceptional talents. As he continues to explore new horizons and seek out thrilling adventures, we can only imagine what incredible achievements and experiences the future holds for him.
For more information visit these links
https://louisskupien.com
https://hy.page/louisskupien
https://hy.page/talk4